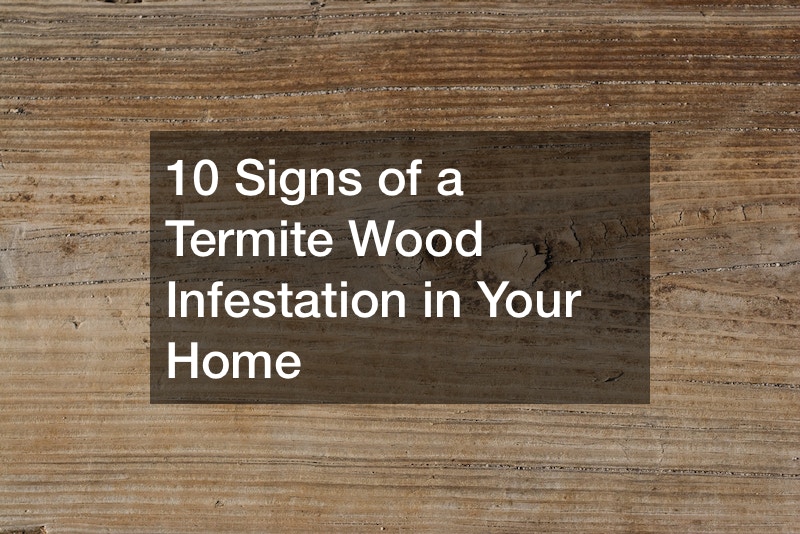 10 Signs of a Termite Wood Infestation in Your Home
Dealing with a termite or wood infestation is extremely frustrating as a homeowner, even if you do not believe the infestation to be extreme or severe at the time of your discovery. If you are a homeowner who has never had experience with a wood infestation anywhere in or around a property, it's important to familiarize yourself with some of the most telling signs that you may have a problem. The more familiar you become with the signs that you have a termite infestation in the home, the easier it will be for you to know when the time is appropriate to call on local pest control service providers and companies near you.
1. Holes in Fence Boards
A telltale sign that you may have a termite wood infestation in your home is discovering holes in fence boards outside. While it may not be a definitive lead that you have an issue indoors, finding holes in fence boards or in wood fences that surround your home is a sure cause for concern. If you discover any types of holes in the fence boards in your wooden fencing around your home, you will want to take a look or in some cases, turn to a local pest control company that is well-versed in handling and exterminating termites from residential homes and even the exterior of a residential home.
Risks of Holes in Fence Boards
Even if you only discover a few holes in the wooden fences you have installed around the perimeter of your own home, it is still a cause for concern. Holes in fence boards that are caused by termites and other pests can lead to serious issues with the overall structure and integrity of the wooden fencing over a period of time. Additionally, termite infestations that begin outdoors and are not contained or eradicated have a much greater chance of spreading indoors, which can lead to serious structural integrity issues for your actual house itself.
2. Mulch Infestations
If you believe you may have a wood infestation of termites, you will want to take a bit of time to inspect the exterior of your own home, its surroundings, as well as the landscaping you have in place. Paying attention to the mulch you have in your garden, surrounding your trees, or anywhere in your yard is important to ensure you are not dealing with an infestation of termites, ticks, spiders, ants, or any other type of insects. If you're unsure of what you are looking for when it comes to inspecting the mulch in your own garden or yard, you can turn to a wood mulch supplier locally to learn more about spotting potential termites or you can search for mulch suppliers that may be able to assist you online.
3. Weakening Floor Boards
Weakening floorboards without a definitive cause or trigger is another sign that there may be a termite wood infestation in the home. When you have hardwood floors installed throughout the home and you begin to notice that your floorboards are weakening with little to no explanation, it may be time to take a closer look. If you are dealing with a serious or long-term infestation of termites, there is the potential risk that they have burrowed themselves so deep into your floorboards that they are not causing the structure of the floorboards themselves to weaken, rot, a fall apart.
Risks of Weakening Floorboards in the Home
If you have noticed a weakening of the floorboards in your home, it's important to understand the potential risks that are associated with the process. When floorboards are weakened over time due to being eaten away by termites, they will begin to dissipate, providing less support than previously in the past. If termites are allowed to burrow deeply into floorboards, the floor itself may begin to cave in, ultimately breaking through if the floor is not located on the ground level of a home or foundation.
4. Furniture Wear and Tear
Unfortunately, termites are not only exclusively found outdoors and in the walls or attics of homes, although they will typically be discovered in these locations if they do make their way into the interior of your home. If you begin to notice unusual wear and tear on your furniture and belongings and you do not have any pets or children in the home, it may be due to a potential pest infestation, such as an infestation of termites. Not only do termites enjoy chomping on and consuming hardwood in walls, but they are also fond of doing so in homes with plentiful wooden furniture and easy access.
5. Window Frame Swelling
When you are a homeowner, inspecting your windows regularly is highly advisable, even if you do not believe you are currently at risk of a termite or wood infestation in your home. Inspecting your windows will help you determine if there are any cracks or leaks that may require repair or even a new window replacement. If you believe you do have termites in your windows or if the frames of your windows have started to swell, it may be time to consider replacements and work with professional window installers near you.
The Importance of Hiring Professional Window Installation Experts
Hiring a professional window installer to assist with window treatments and replacements is essential anytime you are in the market for new windows throughout your home. An expert in window installations can guide you through the process of replacing existing frames or purchasing brand-new windows altogether, especially if you have just recently discovered a termite infestation or if you have just recently treated an infestation around your property.
6. Structural Problems
One of the most obvious signs that you may be dealing with a termite wood infestation in your home is noticing structural problems. Structural issues can include sagging ceilings, holes in the walls, or even walls that appear to be caving in or falling apart altogether. If you do believe that you may be experiencing structural problems at any time in your home, you will want to call on a professional drywall contractor to assist you with a thorough and in-depth inspection.
7. Ceiling Damage
Noticing ceiling damage in your home can give you cause for concern, especially if you did not notice the damage in the past or if you are unsure of what the damage could be caused by altogether. If you believe you may have ceiling damage due to an infestation of termites in the home, you may also want to inspect your attic for further evidence. If you also have damage in your attic, it may be time to call on professional roofing companies and contractors near you for the roof repairs you require on top of working with a local pest control company that services your area.
8. Sagging Roof Line
If you suspect that you may have a wood infestation in your home, you will want to take some time to inspect the roof of your home. The roof attracts termites and many other pests, as it often provides access points that may otherwise be unavailable anywhere else around the home. If you notice that you have a sagging roof line or that you have missing flashing or shingles due to pests, it may be time to call the local pest control company near you while also considering the prospect of investing in a new roof altogether.
Signs it May Be Time for a New Roof
Investing in a new roof is no small decision that should be made lightly. If you're a homeowner, knowing the signs that it may be time for a new roof can help you better prepare by saving ahead of time. When a roof line is sagging due to termites or if the roof itself is missing an array of shingles or is damaged from within, it may be time to seek professional roofers to assist with repairs or even a replacement. If your roof has been exposed to water damage and natural disasters without being repaired repeatedly, you will also likely need to consider investing in a new roof earlier than you anticipated.
The Importance of Hiring a Professional Roofing Company or Contractor
Hiring the right roofer can make a major difference in the overall outcome of any inspection, repairs, or replacements you require. A professional roofer is not only experienced and qualified to assist you after a pest infestation, but they will protect the work they complete for you by offering a work warranty. Additionally, those who are truly professional and working in roofing will have no issue with providing proof to you that they are currently licensed and insured to work in and around residential properties for clients.
Finding the Right Roofing Company
Anytime you are in need of shingle replacements, flashing repair, or even a brand-new roof, you will want to find the right contractor or roofing company. You can do so by asking neighbors and those who live in a similar area as you for their own advice and recommendations on who to go with when it comes time to hire a new roofing company or contractor near you. You can also search online for roofers in your area based on credentials, experience, and even by reviewing portfolios ahead of time.
9. Termite Swarmers
If you believe you have a wood infestation in your home that has been caused by termites, you may want to search for potential termite swarmers. Termite swarmers are typically known as the reproductive termites that can fly, moving from different colonies in order to mate and breed. If you are adding a new bathroom fixture to your home or even tearing down a wall and you have found a termite swarmer, it is best to turn the professionals to ensure the eradication of the pests is done right.
Importance of Hiring Pest Control Services After Discovering Swarmers
Discovering termite swarmers can be overwhelming if you have never had the experience of eliminating termites or any type of pest from your own home in the past. Hiring a pest control contractor or local service that you can rely on is a way for you to learn more about the potential risks of termite swarmers and how to go about preventing termites from finding their way into any area of your home ever again in the future. Professional, certified, and licensed pest control service providers are also well-versed in understanding termites and how they impact homes in your current region based on your existing location and surrounding climate.
10. Termite Frass
Termite frass, also known as termite droppings, is a telltale sign that you may have an active termite infestation in the home or that you have had an infestation in the past. Whether you're inspecting the structure of your home on your own or if you're undergoing a kitchen remodel, noticing termite frass in any capacity may give you pause. If you believe you have discovered termite frass or droppings anywhere in or surrounding your home, it may be time for you to call on a professional pest control service or contractor near you.
How to Identify Termite Frass
While the technical name is termite frass, most people may refer to their findings as termite droppings. Termite droppings are tiny and appear as wood pellets that may pile up over time. In most instances, termites will take their time to create separate holes within walls in order to store their frass and droppings, which can also provide leads as to where the termites are living, breeding, and thriving in your walls.
Knowing how to identify the signs of a termite wood infestation is essential when you believe your own home is under attack. When you know what to look for if you believe you have a wood infestation in your home, you are less likely to see the infestation become extremely severe, potentially impacting the structural integrity of your property over time. The better you understand what a termite infestation is and why they occur, the easier it will be for you to implement a proper course of action to prevent a future infestation and eradicate an existing issue in and around the home.